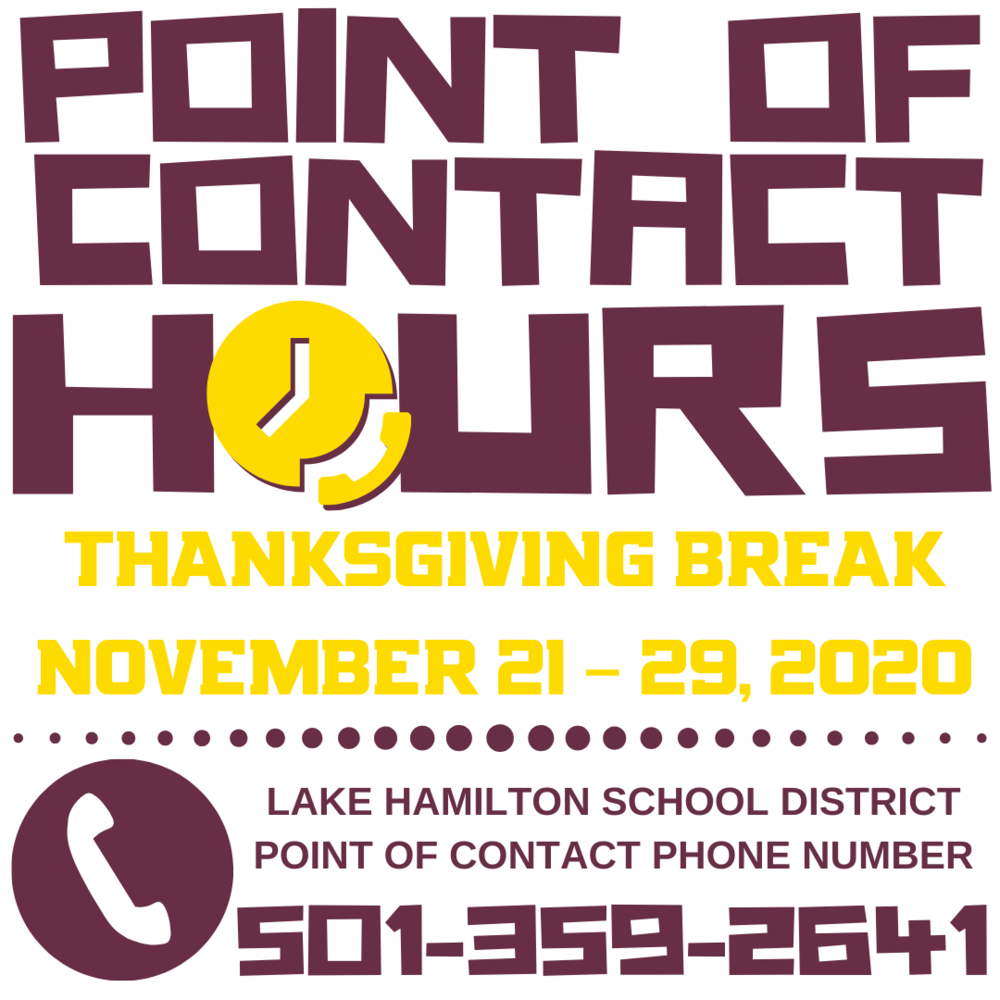 Point of Contact Hours during Thanksgiving Break
Brian Bridges
Thursday, November 19, 2020
The Lake Hamilton School District (LHSD) encourages the diligent reporting of positive COVID-19 cases to our District Point of Contact (POC), even when school is closed.
The LHSD POC will be available during limited times next week to take calls at 501-359-2641. It is still very important to report positive cases, and to notify close contacts so they do not spread COVID-19 during the break. The POC phone line will be closed Wednesday - Friday, November 25 - 27, 2020.
The phone line will re-open on Saturday, November 28 at 10:00 a.m. for those who have had a positive COVID-19 test or have been designated as a close contact over the break. These individuals will not be able to attend school until their isolation or quarantine period is over.
---
POC THANKSGIVING BREAK HOURS:
Saturday, November 21: 10:00 a.m. - 3:00 p.m.
Sunday, November 22: 2:00 p.m. - 6:00 p.m.
Monday, November 23 and Tuesday, November 24: 10:00 a.m. - 1:00 p.m.
Wednesday, November 25 - Friday, November 27: Closed
Saturday, November 28: 10:00 a.m. - 3:00 p.m.
Sunday, November 29: 2:00 p.m. - 6:00 p.m.
---
We continue to rely on cooperation from families in reporting positive cases and identifying close contacts. The better we are with our prevention strategies, the longer we will be able to keep schools open and have students attend school onsite.
The Arkansas Center for Health Improvement (ACHI) strongly encourages families to forgo large family gatherings and to celebrate with household members, joining extended family by telephone, video, or other electronic means. Additional details are available here / Spanish.
Our Wolves and their families are important to us as we support health and safety precautions both within and outside of school. We wish you a very Happy and Safe Thanksgiving!